Hearing aids do not restore your hearing; they amplify sounds to a level you can hear. This takes some getting used to, as your brain is bombarded with sounds and stimuli it has not experienced in years. Some sounds, like your own voice, will sound funny and unfamiliar. Below are five tips your Hearing Systems audiologist put together to help you get used to your new hearing aids.
Start by Wearing Your Hearing Aids at Home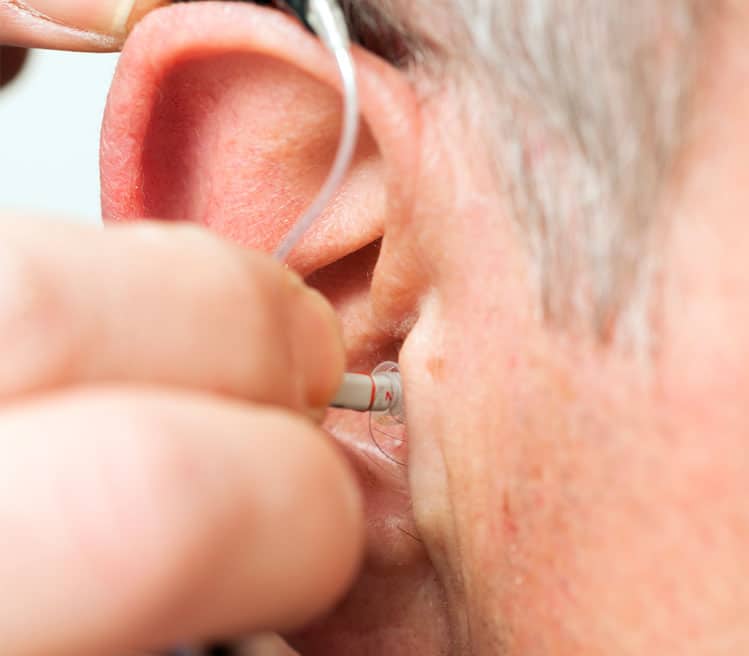 Wearing your hearing aids in a quiet environment will help introduce you to sounds slowly. Start by having one-on-one conversations, reading out loud or even talking to pets to help you get used to the sound of your own voice.
While at home, work on locating the source of new sounds, such as the hum of the refrigerator. Put on a podcast, an audiobook or talk radio when home alone for extra practice.
Allow Yourself to Take Breaks
Hearing new sounds can be mentally exhausting. When you first get your hearing aids, you'll start by wearing them for only a few hours a day. Over the next few weeks, try to wear the devices for a few more hours each day. When you feel like you need a break, take it.
As you get more confident, try wearing your hearing aids in more challenging listening environments.
Attend Your Scheduled Follow-Up Visits
Your audiologist requested that you schedule a follow-up visit two weeks after your initial hearing aid fitting – this appointment is important! After living with your hearing aids for a few weeks, you will know what is working and what needs to be corrected.
While at the follow-up visit, your audiologist will fine tune your devices and adjust how the hearing aids fit in your ear. They will also talk to you about any listening situations you have found challenging.
Plan to be Frustrated
It is likely you will experience a sound overload when first wearing your hearing aids. You will hear sounds that you have not heard in years, and your brain is out of practice distinguishing important sounds from background noise.
Adjusting to your hearing aid takes time, and it can be frustrating. Giving yourself permission to feel this way can help you from getting discouraged.
Report Any Ear Pain Immediately
Wearing hearing aids for the first time can lead to tenderness, but you should not feel pain. If you do, contact our office immediately so we can fix the problem.
Your Hearing Systems audiologist will be with you every step of the way when getting used to wearing hearing aids for the first time. Ready to get started? Contact our office to schedule an appointment today.